UPDATED NOVEMBER 2014 - INCLUDES ALL KNOWN FULPER VASEKRAFTLAMPS AS OF THIS DATE
Dear Fulper lamp owners:
Fulper.net is currently doing research for the first comprehensive book on the Vasekraft lamps produced by the Fulper Pottery Company. As part of our research process, we are asking for assistance from owners of Fulper lamps. We are seeking information on individual lamps, especially the marks and numbers on the bases and shades. We are also seeking permission from owners to have their lamp(s) professionally photographed for possible inclusion in our future book. If you are willing to help, please e-mail us at vasekraft@comcast.net. We are also always interested in purchasing any Fulper Vasekraft lamps and will pay generously for fine examples
In the meanwhile, read our fascinating article on Fulper's Vasekraft Lamps that was published in the Spring 2012 issue of the Journal of the American Art Pottery Association (click the pic):
.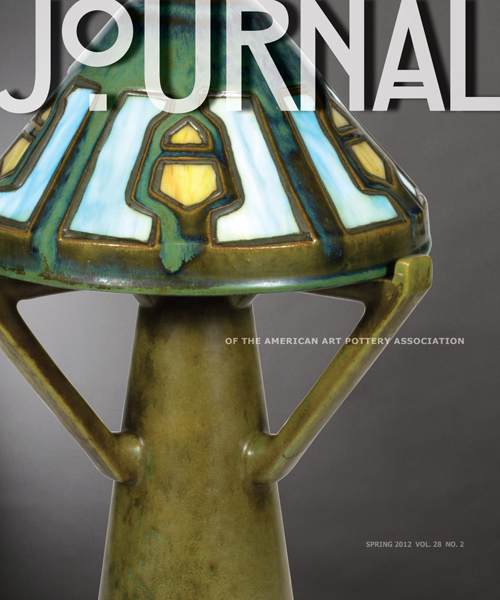 This Fulper Lamp Gallery, two years in the making, features Fulper's distinctive VaseKraft lamps, circa 1911-1918. These Arts and Crafts Period lamps are distinguished by their unique ceramic shades that incorporate colorful leaded glass in geometric patterns.
The stunning glazes on VaseKraft lamps were expertly applied to both base and shade, and are arguably Fulper's best work. In fact, it has been said that Fulper never put a weak glaze on a VaseKraft lamp, and the pictures below attest to that.
Fulper.net will attempt to include a picture of each known Fulper VaseKraft lamp in this gallery, and in doing so provide a single comprehensive source for viewing, comparing and appreciating the full range of Fulper's VaseKraft lamp production. Photo contributions are highly appreciated!
Submission of information about Fulper lamps, or lamp photos, is appreciated -- email vasekraft@comcast.net.
Note -- lamps are arranged by model number, and larger pics are available for most lamps and advertisements-- just click on the gallery photos.
Support the museums and auction houses listed on this page!